2020 NAHB International Builders' Show
2019/12/13
TOP COLOUR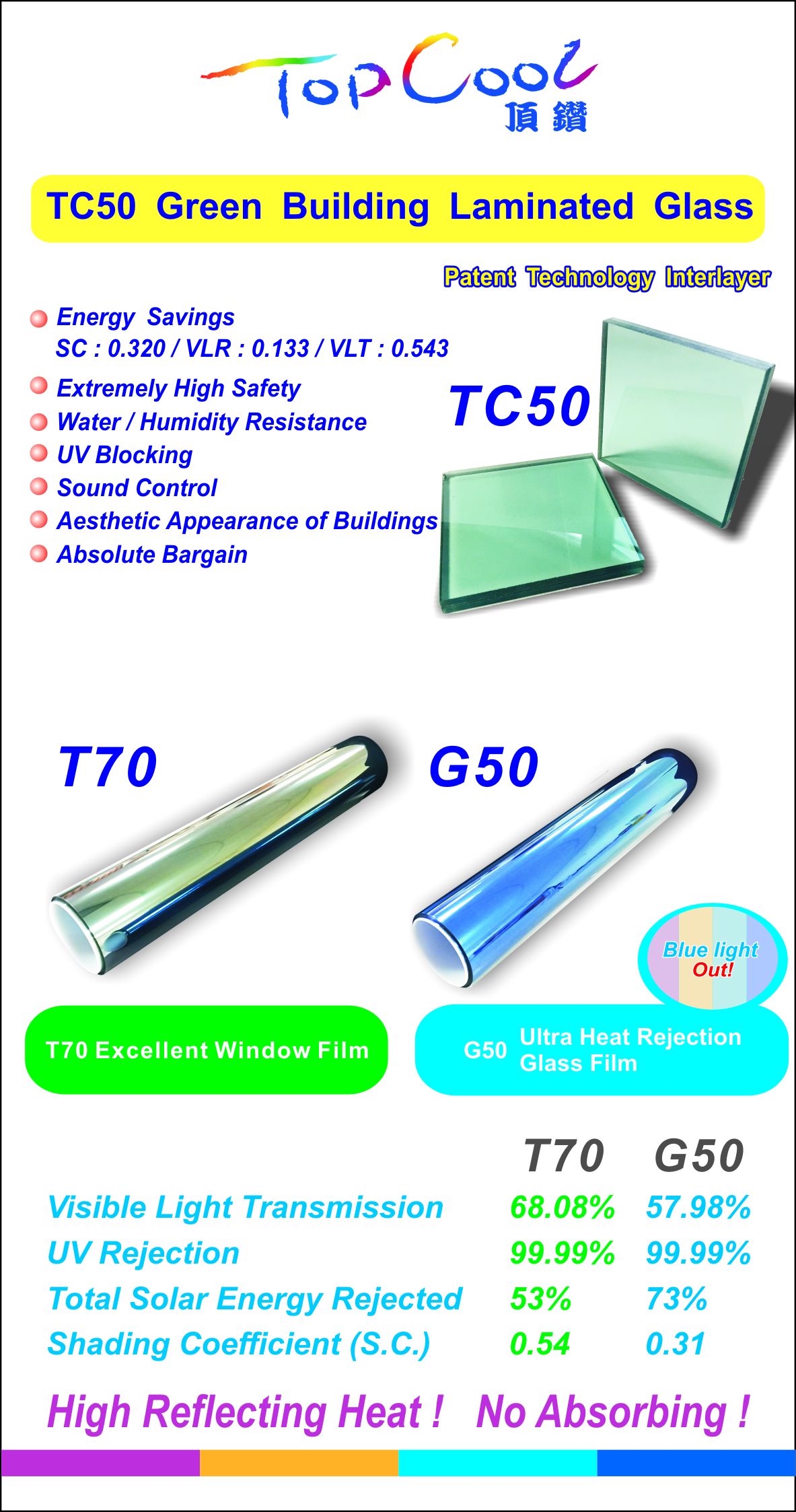 2020 NAHB International Builders' Show we will showcase the latest performance laminated glass & glass films.
Top Colour Film LTD. is established in 1985, and is the first pioneer to manufacture energy saving film in Taiwan. Not only do they introduce state of the art machines and equipments, they also produced excellent high performance energy saving green building material glass film and top of the line solar film by applying world's first technologies.In the cross-industry alliance, it has combined patent technology with the glass industry to achieve high-performance green building laminated glass. Meet us at 2020 NAHB IBS in Las Vegas!
Top Colour Film Ltd is the professional solar film manufacturer since 1986.
Our production meets ISO 9001: 2015
-Manufacturer supported with factroy prices.
-Quality controlled production
-Over 30 years of experience in window film industry.
-We can offer custom-made service.
-You win, we win
Exhibition Details
January 21-23, 2020
Las Vegas Convention Center - (LVCC) South Hall - UPPER LEVEL
3150 Paradise Road, Las Vegas, NV 89109, USA
TOP COLOUR booth no. is SU3835
Hot Selling Product

TopCool T70

---

TopCool T70 Excellent window film has been developed withour latest patented technology. Top researchers worked with us and spent more than 3 million dollars on R&D, finally we succeeded and are proud to introduce this superior performance film with you. TopCool T70 film carries the following ground-breaking capabilities:★Patented-technology: Developed by our patented technology, T70 is also the bronze medal winner of the 2018 Taipei AMPA innovation awards.★Heat rejection: Reflects 90% heat and IR rays from your glass, stay cool in car and reducing air-conditioning costs & conserves fuel.★High transparency: Legal VLT for most countries and regions, providing crystal-clear visibility and does not shade your sights during night-time driving.★Glare reduction: Low internal refection rates, reducing glare and internal light reflections for comfortable driving experience.★99.9% UV-OUT!: Less than 1% of harmful UV rays can reach your passengers & upholstery! Proving best protection from Skin diseases and color fading.★Absolute Bargain: Pay less than half comparing with major brand's top series and enjoy the same performance.★Eco-certified: Made in our ISO9001:2015 certified factory in Taiwan, product meets SGS REACH certification and various test reports.★Durable performance: T70 reflects the heat but not absorbs it, ensuring long-performance and comes with a factory 10-year limited warranty.★Enhance safety: The quality polyester film can hold shattered glass from impact and prevent possible injuries.

---

TopCool G50

---

For architectural glass film and building film, TopCool G50 Ultra Heat Rejection window film is your best choice! This energy saving film has been developed with latest patented technology. TopCool G50 film offers the following performance.Patented-technology: Developed by our patented multi-layer technology & manufactured by our own factory in Taiwan. Ultra Heat rejection: Reflects 90% heat and IR rays from your glass, stay cool in car and reducing air-conditioning costs & electricity bills. Natural Green Tone: High VLT at 58% providing good visibility and does not shade natrual light. Glare reduction: Low internal refection rates, reducing glare and internal light reflections for . 99.9% UV-OUT!: Less than 1% of harmful UV rays can reach your passengers & upholstery! Proving best protection from Skin diseases and color fading. Absolute Bargain: Pay less than half comparing with major brand's top series and enjoy the same performance. Eco-certified: Made in our ISO9001:2015 certified factory in Taiwan, product meets SGS REACH certification and various test reports. Durable performance: G50 reflects the heat but not absorbs it, ensuring long-performance and comes with a factory 10-year limited warranty. Enhance safety: The quality polyester film can hold shattered glass from impact and prevent possible injuries.

---

---